Activity-Tips. What has to be done?
What has to be seen? Where to start? Activity-Tips., here are some of the MUST HAVE DONE'S of Costa Rica especially for you.
Activity-Tips. What needs to be seen? What needs to be done in Costa Rica? Where to go? Hiking? Riding? Surfing? Swimming? You choose.
A visit to the Organic Shop is always worthwhile. Here you can find dark chocolate with pineapple (of course with an extremely high cocoa content), fresh hummus, exotic oils on a completely natural basis and weekly workshops that focus on the support of local supermarkets and inform about a harmonious life with the earth.
Costa Rica medicinal plants are also offered here. Another eye-catcher are the street stalls where you can buy fresh fruit and vegetables. So many bright colours, the water runs directly into your mouth. 
The tranquil city is not only a popular holiday destination for tourists from other countries. Many Costa Ricans also spend their holidays here, as the beach in Sámara is considered to be one of the safest in the country.
No grain of sand is like the next one
There is also Caribbean flair here in Sámara. All you have to do is drive to the northern beach of Carillo. But there is one decisive difference to the Caribbean: here is mostly better weather.
A little more to the south follow the beaches Buena Vista, where the turtle project is located and Barrigona, that receives one with dreamlike white sand. Moreover, from here, one gets to a nearby waterfall that represents an impressive scenery during the rainy season.
Samara Events
Always music evenings in the Hotel Paraiso del Cocodrilo with many musicians from the surrounding area.
Tour Offers
Costa Rica Sámara offers endless possibilities for excursions. Here we have listed the most interesting possibilities
Canopy – Tarzan style. Overcome your fear of heights and swing boldly from tree top to tree top. Or do it like parrots and enjoy nature from a bird's eye view while you zip through the rainforest.
Riding – Like Indiana Jones. Good, maybe not quite so. So in any case without weapons, wild chases and a lost treasure there is, as far as we know, also not. But there are rides to the most beautiful beaches of Costa Rica Samara and through the rainforest. The perfect opportunity to observe the native animals.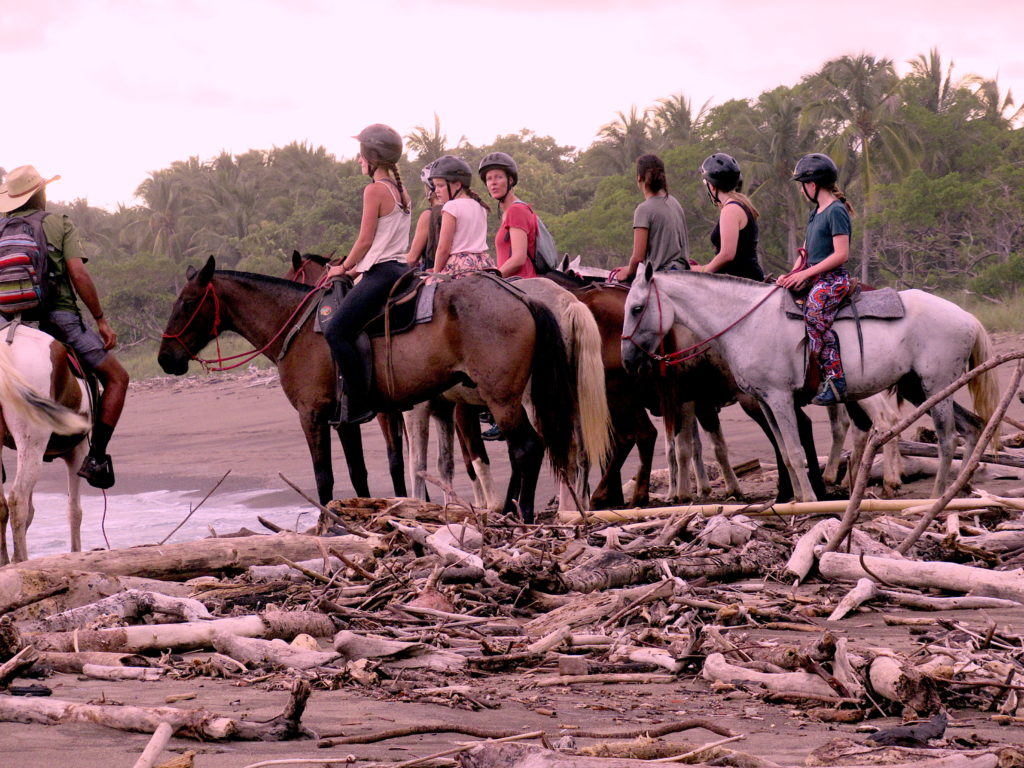 Stand up Paddling – The relaxed version of surfing. With a fabulous backdrop you can train your sense of balance and endurance. But as I said, everything is very relaxed. Because the waves don't set the pace here. If a turtle crosses the path here, just stop and watch.
Flyboarding – Looks damn cool. Ascend out of the water like a superhero and float over the waves. Perform casual tricks and show off in front of the other bathers. The fun factor can hardly be surpassed and all this against a breathtaking backdrop, the sandy beaches of Sámara!
Activity-Tips: For all surfer offers
Surfing – feel like David Hasselhoff. Grab your board, throw yourself into the waves and save …. oh no, rather: enjoy the ride of your life! Of course there are also courses for everyone who has never been on the board before. Just try it out and enjoy the moment.
Boat tours – With a far better end than with Titanic. Because icebergs are hard to find in the crystal clear water. But dolphins and turtles. And if you have a really good eye and are out at the right time of year, even humpback whales.
Authentic tours with fishermen from Samara
Turtle project – play, fun, excitement, no chocolate. But cute turtle babies! Because in the turtle project at the beach Buena Vista hatch almost daily offspring. They are then gently brought to the water. Just go there and be enchanted.
Back to top.