Nightlife Bars Restaurants 2023 – Samara is as colorful as Costa Rica itself. Whether unusual drinks, delicate dishes or fabulous sleeping options. We know what you shouldn't miss in Sámara.
Samara Costa Rica Nightlife
Samara is a small city south from Nosara. It is much more chill than Tourist Hotspot  Tamarindo but still has a lot to offer. It is a nice mix between a relaxed atmosphere, adventure activities and authentic restaurants & bars. In this post we would like to introduce you to our favorite places in Samara. The best restaurants in samara costa rica for lunch and dinner and the best bars for a  night out.
Nightlife Bars Restaurants – Early evening
Lo Q Hay Pub is a lounge with comfortable seating on the beach of Samara. It is beautiful at sunset and later with the colorful lights on the trees and the soft music.
La Vela Latina on the beach is a relaxed meeting place to drink at sunset and then a cocktail. Friendly bartenders, snacks and American football in season.
Samara Pacific Lodge is a French restaurant 5 minutes drive north of Samara's centre. The menu changes daily, offering fresh ingredients and a wide selection of wines.
The Micro Bar is a small, intimate place that specializes in beers from local breweries, but also serves cocktails.
Night
Tabanuco is a beach restaurant with a bar that often offers reggae evenings and other musical events. It is a stylish yet simple place with a large tree in the middle of the dance floor.
Las Olas Samarais the favourite of a local at the northern end of Samara Beach. It offers Mexican food and billiard tables in a rustic setting. (Do not walk alone on the beach at night)
Late night
Bar Arriba on Samara's main resistance is a sports bar with big screen televisions. At night it turns into a nightclub with DJs and special music events where you can dance and party in tropical breezes.
Flying Taco – Unfortunately  no more jam sessions
Wednesday's Open-Mic'Taco Jam' fills the bar with musical talent of different levels.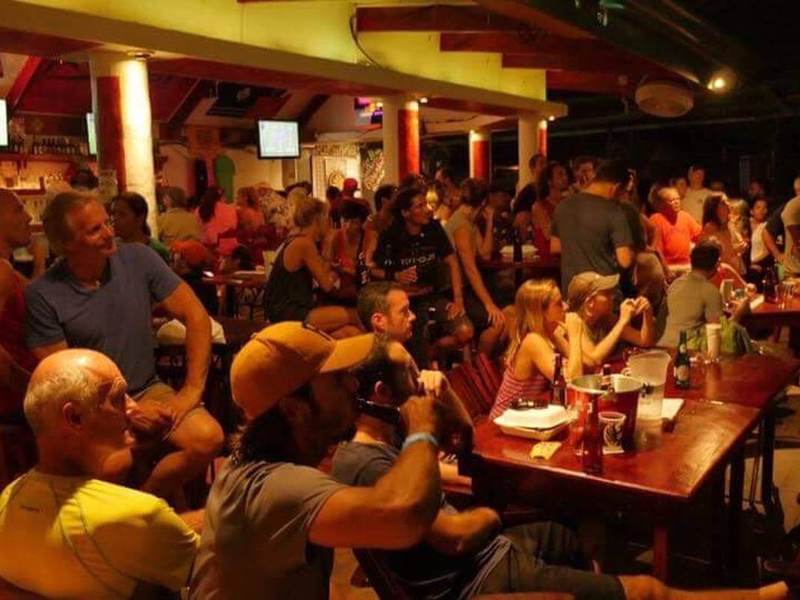 Nightlife Bars Restaurants 2023- Bar Arriba Downtown Samara Bar
Any self-respecting traveler that's ever been to Samara center has a story to tell about their experience at Bar Arriba at night.
As you can see, there are a few options to design a crazy nightlife in Samara.
You are looking for a hotel next to Samara in the Jungle? This way.
samara costa rica – things to do in samara costa rica – best bars in costa rica 
nightlife bars restaurants samara costa rica
Contact us for any more Questions
Best Internship in Samara?